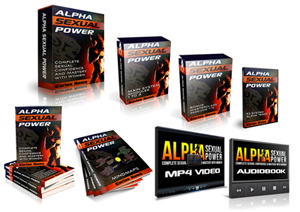 Welcome to the affiliate promotion page for the Alpha Sexual Power program - Sex God Stamina, Power, & Charisma
The Alpha Sexual Power Program is a men's sex and sexual confidence program. It has high conversion rates on the initial product, as well as high payouts on the upsells.
PLUS you also get commission on the continuity!
The program: $67 Clickbank Product (currently in testing), 3 upsells in the funnel. The upsells are priced: $47, $97, and $97. There are also downsells on each of the $97 programs to $47.
The Alpha Sexual Power program is a huge program which covers everything from Testosterone issues, sexual performance issues, to helping them become a sexual Tyrannosaurus in the bedroom. This program basically wipes away ANY insecurities that he won't be able to satisfy her in the bedroom.
With 2.1 months of continuity being the average, you'll do well over $1 to $2 EPC.
Just put your Clickbank ID in below to start getting ready for the fun. I'll have more content available for you soon, including more email swipes.
If you're fashioning your own swipes for this offer, here is the information you need to know about the offer:
USP: Alpha Sexual Power reveals the 3 T- Triggers that make you sexually confident and powerful - a sex god that she worships. And a COMPLETE system of how to get a women from "hello" into the bedroom.
VSL BIG IDEA: A man's testosterone level is responsible for his sexual prowess with women. Women can tell how much T you have by talking to you and even "smelling" you. The key to getting laid is raising your level of testosterone - naturally.
And every man out there is suffering from a form of "T-Bleed" - depleting his natural masculinity and turning him into a woman in the process. Which is why most men fail with women.
* Even though I'm providing email swipe for you to use, please consider these ideas to riff on for your own emails. Email services are starting to filter email broadcasts coming from multiple channels that look too much alike. So you want to tailor your emails to include your own approach and method to "sell the click." So I'm recommending you do not copy these exactly, but instead make changes to both the subject and body that will not only get you more clicks, but not get your emails blocked.